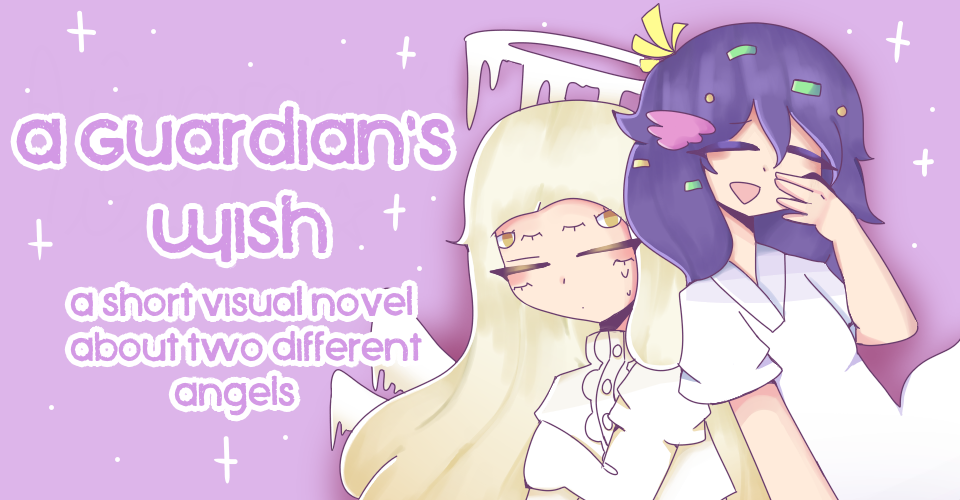 A Guardian's Wish
A downloadable Visual Novel for Windows
Synopsis:
Many witches exist nowadays, each of them unique in their own way. But what they all have in common is that they have a guardian angel, who visits them in their dreams and guides them throughout their life, trying to lead them to the right way as much as possible. Many angels have a passionate wish to protect their witches, as if they were their children (even though they technically kinda are).

Well, to many, yes. Except for one, whose wish is just wanting a certain guardian angel to love them, despite of them being annoying little pieces of crap.
Join Soleil, an overprotective guardian who gets her supposedly relaxed day ruined by a hopeless romantic!
----------------------------
A Guardian's Wish is a visual novel (but a little more interactive than a usual one, per se) that will be a midquel to something bigger coming soon.
In this game, there are...
- Two endings
- Custom made parallax maps and sprites
- Low-quality humor
- A Bonus Room that includes more info about the characters and an author's note
----------------------------
CREDITS
PLUG-INS:
MUSIC:
---------------------------
Warning:
This game is rated R-15 due to containing implications of alcohol abuse and mild profanity.
Install instructions
When downloading the .zip file, be sure to extract it in order to access the files!
**Also, if you notice any large bugs/grammatical/spelling errors, let me know in the comments! Feedback is very appreciated!**
Comments
Log in with itch.io to leave a comment.
how do you use this i'm still stuck on the walking part
might be a little stupid

I'm not sure which specific walking part you're at, but....try interacting with other people; that'll help with proceeding with the story
No, this is such a big mood lol Finally figured out that the lower part leads to another room that you press enter to go into.
cloud said 'oh worm'
and i felt that.
jokes aside!!! i love this vn to bits?? their designs are so unique, and the colors used are so pleasing to me and just. aaagh,, love it. <3
Very cute and I'm looking forward to your future plans with this world ^.^